Sources confirm details on business class seats, as well as two different configurations in economy for leased and purchased aircraft.


Image source: Vietnam Airlines
Vietnam Airlines (VNA) has been very quiet regarding the interior plans of its newest widebody aircraft, the Boeing 787-9 Dreamliner (B789) and Airbus A350-900 (A359), especially in light of the fact that VNA is due to take delivery of its first of both models within the next few months.
When the order was first announced in 2005
, VNA was expected to take delivery of 16 of the smaller 787-8 (B788) in 2009, but the Dreamliner program experienced years of delay. In the interim, VNA opted to change their order to the stretched B789 model, which pushed delivery back even further. Subsequently, additional units were ordered.
The acquisition was a mix of direct purchases and leasing agreements. This is important because the
cabins in the leased aircraft will be different
from airframes owned by VNA.
VNAFlyer, through unnamed sources familiar with VNA's fleet renewal plans, has learned the seat types and cabin configuration for its soon-to-be-delivered B789s.
Business Class
Translated caption: VIP guests of
Vietnam Airlines will experience
Class C (business class) service on
Airbus A350 aircraft. Image source:
baogiaothong.vn
VNAFlyer can confirm that the Zodiac Cirrus is indeed the premium seat selected for VNA's Dreamliners, and very likely for its A359s as well. This represents a huge leap forward in passenger comfort from the seats currently in its widebody fleet. (Note: VNA does not offer a first-class cabin on any of its fleet.)
Current B777 business class seat.
Image source: Vietnam Airlines
Cirrus Seats
Image source: Zodiac Aerospace
I have been fortunate enough to sit in a few versions of this seat on various airlines, and they were fantastic. The most important design element is having seats that
lie completely flat and parallel to the floor
, a big win for passengers being able to more easily rest or sleep.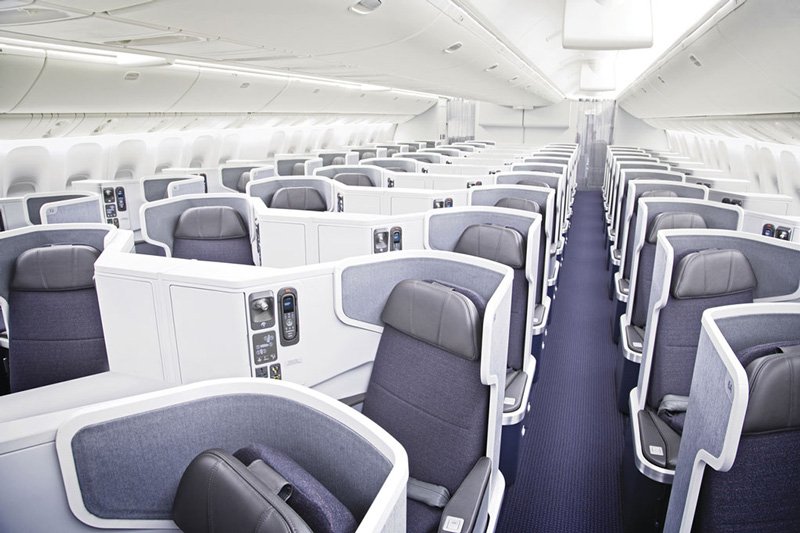 Reverse herringbone layout.
Image source: American Airlines
Also, the "reverse-herringbone" layout of the cabin gives
all passengers unimpeded, direct aisle access
without disturbing anyone else. For the airlines, there is very little impact on seating capacity, since each row saves space by tucking a passenger's feet under the arm console of the row in front, giving the passenger room to stretch their legs while spacing the rows closer together.
Add in ample storage, easy to use controls, plenty of privacy, charging outlets, and a huge entertainment screen (AA uses a 15.4" touchscreen), and you have yourself one heck of a seat offering from VNA. The in-flight entertainment system will be sourced from Panasonic.
Image source: Cathay Pacific
Overall, the Zodiac Cirrus widely receives high praise from frequent flyers and business travelers alike. While the specific details of VNA's version are not yet available, you can see how other airlines utilize the Cirrus to outfit and refresh their premium cabins, notably:
Air France
,
American
,
Cathay Pacific
,
China Eastern
, and
EVA
.
Deluxe Economy
Image Source: Aircraft Interiors
Expo/TIMCO
With the B789s and A359s destined for long-haul service, VNA will retain its premium economy product (called Deluxe Economy), using the TIMCO (now HAECO)
3050 Featherweight Premium Economy seats
, offering up to 10-15 degrees in recline, minimum 38" pitch, up to 75-degree leg rest, a 4-way headrest, and a max 10.4" screen (VNA-specific configuration not available). These seats have
articulating cushions
, so when a passenger "leans back" the seat doesn't intrude into the space of the passenger behind.
However, Deluxe Economy will only exist on their owned aircraft.
Leased B789s will not have a Deluxe Economy section
, and will be all regular economy instead (see below).
More slightly bad news...
the first few B789s off the line will be leased
.
On VNA's purchased B789s, the deluxe economy section will have
35 seats arranged in a 2-3-2 configuration
. You can also find these seats on
Thomson Airways' Dreamliners
as well as in the premium cabins of many narrowbody fleets.
Image source: JetBlue
Economy
The economy cabin will feature the
B/E Aerospace Pinnacle
, the
lightest aircraft seats in the market
. Notably, Delta Air Lines recently tapped B/E Aerospace to install the Pinnacle on 225 of its narrowbody fleet. JetBlue is also using this model to refurbish 70 of its aircraft, and installing it on 30 new deliveries. While
slimline seats
have generally been panned as being uncomfortable, B/E's version seems to garner less ire from passengers.
VNA will install 211 of these seats in the economy section of their purchased B789. No word yet on pitch, entertainment options, or other dimensions, but don't be surprised if VNA uses a 3-3-3 layout.
On leased aircraft, removing 35 Deluxe economy seats allows for the addition of 72 more regular seats, boosting the number to 283.
Possible Seat Map?
Taking the information above and comparing to what other airlines have done, I've extrapolated this mockup of what VNA's B789 seat map may look like with Deluxe Economy:
Note: This is only a mockup, and it's for B789s purchased by VNA, which will be delivered later.
And in a 2-class configuration without Deluxe Econmy:
Note: This is only a mockup, and it's for B789s leased by VNA, which will be delivered first.
Final Thoughts
While I feel that there isn't much variance between different types of premium economy and economy seats (and most passengers probably don't notice anyway), VNA's selection of Zodiac's Cirrus seat for business class definitely elevates its premium game in the region. It stands to reason that the same seats will be used for both the B789 and A359.
The carrier will need to continue on this trajectory to be able to compete with the likes of THAI Airways and Singapore Airlines, as well as stay ahead of other competing carriers. I certainly hope that VNA management realizes that an outstanding hard product alone won't help much... they'll have to revamp their on-board soft product to the same degree, as well as vastly improve their customer service both onboard and on the ground.
What do you think? Does this make you want to give VNA a try (or come back)?
By the way, the first planned long-haul revenue service on the B789 is to London Heathrow (LHR), split between Saigon (SGN) and Hanoi (HAN). While there are reports that this would commence in July of this year, I'm guessing that it won't happen until at least August, since delivery is right around end of May.